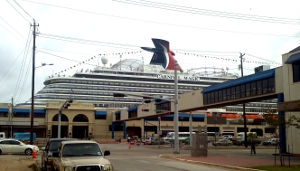 So, we're ON the ship!  We had a couple of minor mishaps, including Mr. Pack Mule (aka Howard) broke a strap on one of the backpack bags, and we had to make a quick adjustment for that (hint: always buy backpacks that also have wheels!  That saved the day for us.)  It's a terrible feeling to be standing in the middle of a huge crowd, slowing everyone down, when everyone wants to be on the ship!
Anyway, we made it.  The VIP waiting area was very nice, and I have noticed an incredible upgrade to not only the terminal but their crowd control procedures.  It's clear that Carnival has done everything in their power to make the boarding process wonderful, not only for the VIP passengers, but also for everyone else.  It's also clear that for Carnival, everyone feels like a VIP!
So we're in the Lido right now, and the ship is starting to fill up.  People are starting to get their lunches and there is a beautiful array of wonderful foods to eat. (I have my eye on the Mongolian Wok, and really should have gone ahead and gotten mine, but I wanted to write some first…)  One of the advantages of getting on first is that there are no lines in the Lido, and the elevators are open and available.  So, the truth is that normally we try to use the stairs as much as possible, but when getting on, we have so many carry-ons, getting up the stairs with them in hand just isn't going to happen.  So until we are in our cabin, we'll be heavily dependent on only going where we can easily go, dragging lots of stuff.  Our cabins should be open in about 1  1/2 to 2 hours.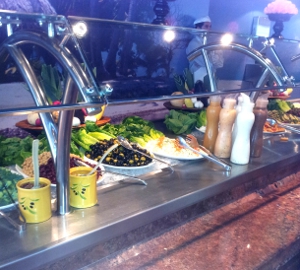 We've been in Facebook contact (I love Facebook for communication like this) with the rest of the group and it appears they have arrived at the terminal.  Soon, they'll be aboard, because from what I can tell, the lines are moving quickly.  Then, it's gonna be the muster drill, gathering our luggage which I hope will be delivered soon, and then off we'll go into the Caribbean.
More pictures will follow as soon as I can get them up.  Some of this is a pretty slow process 🙂