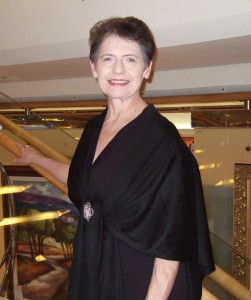 Hi, I'm Georgene, Howard's wife and partner in crime.  I do a lot of things, not all of which are on the computer, though I'm hard-pressed to think of any that aren't computer-related at this time!
In my real life, I am recently semi-retired as a business analyst and software designer for a company that provides tax solutions  to the tax industry.  You probably never heard of our company, but if you have a CPA, he or she probably has!  I'm also a CPA, which is one of my qualifications for working for this company.  Although I am semi-retired, they still have managed to talk me into working part time on a contract basis.  And in the hours when I am not at work, I am a seller on Amazon.com.  No grass grows under my feet!
You can find out more about me on my personal website, http://gharkness.com.  I'd love for you to pay me a visit!
I also have more blogs!  There's my prepping blog, and my baby boomers' blog.  (Oh NOES!  Another new blog – this one is on personal finance!)  As you can see, I have a lot of interests, but the interest that is nearest and dearest to my heart is the problem I have had with my weight since I was a small child.  Of all problems, that is the one that has caused me the most heartache, and with which I have experienced the most satisfying success!
I have written and published an ebook for new cruisers who don't know what to expect when planning for a cruise (or indeed, if they even want to go on a cruise).
How to Schedule, Plan & Enjoy Your Very First Cruise Like You've Been Doing it Forever
It has been a real labor of love, and yes, that's Howard featured on the cover! He's the one that encouraged me every step of the way!  Since then, I have also written a longer, more detailed book for people who had questions left over from the first one.  The new book is How to get the Most Out of Your Cruise Vacation.  It too was a labor of love.
I hope our blog will do a bit more than just entertain you, but I hope it's entertaining as well.  Please don't hesitate to let us know if there's a topic you'd like us to write about. As always, you'll get Howard's take on it, too, which is guaranteed to be different from mine!
It's all good!