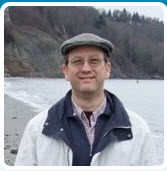 I had the privilege of speaking with Dr. Peter Ballerstedt via Skype. Dr. Ballerstedt came to my attention a couple of months ago when a link to his site in my blogroll went dead, and I alerted him to the problem. My wife and I first met Peter on the 2012 low-carb cruise, but he was not able to go on the 2013 or 2014 cruises.
Naturally, I encouraged him to try for the 2015 cruise, especially since he does presentations for a living, and is a very interesting speaker.
Unfortunately, the video recording was a disaster. Even after 2 do-overs, I had some strange technical problems which caused the MP4 recordings to have dropouts and jerkiness. I am very grateful to Dr. Ballerstedt for giving me the do-overs, but I just didn't have the heart to ask him to try yet another, so, I just pulled the audio (which came out ok) to post here.
I got some links to other presentations that Dr. Ballerstedt gave which have much higher production quality. Here's one that he did in Lexington, Kentucky, in January of this year, on the topic "Red Meat and Our Health: Separating Scientific Fact from Politics, Emotion, and Misinformation."
Here are some other links that he asked me to share:
Dr. Ballerstedt & I have in common a love for Celtic music. He plays the Hammered Dulcimer, and is quite good at it.
"Reality of Ruminants & Liebeg's Barrel Examining New Conventional Wisdowm" presentation to Ancestral Health Symposium 2012
"New Forage Species" presentation to Idaho Hay & Forage Growers meeting
Grass Based Health facebook page https://www.facebook.com/GrassBasedHealth?ref=hl
Grass Based Health blog http://grassbasedhealth.blogspot.com/ has some very interesting articles and opinion pieces.
@GrassBased on Twitter https://twitter.com/GrassBased